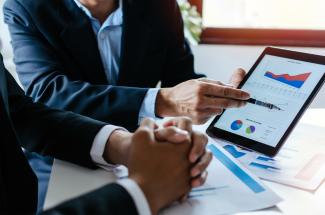 How Could Inflation Impact Corporate Retirement Plans?
Increasing prices may put pressure on employers and delay workers from retiring 
Inflation is the increase in the general price of goods and services, which can decrease the purchasing power of American workers. So how does this recent upward trend affect your workplace benefits, employees and retirement plan?
Salaries, Flexibility and Savings
When inflation goes up, the same paycheck doesn't stretch as far. With the increased costs of food & beverage, transportation, housing, apparel, medical care, recreation, education & communication and other goods & services, your employees might not be able to afford the same lifestyle.
To maintain a similar standard of living, your employees may request salary increases and it might be more than the typical 2% raise (year-to-date salary increases have been more than 4%).[1]
Other employers, however, are considering shortening the work week as opposed to a salary increase.[2] Benefits like flexible schedules may be appreciated more than a raise.
Another employee benefit that is gaining interest is the emergency savings account. Sixty percent of employers said they are interested in offering emergency funds and 1 out of 4 employees said they'd consider a job change if a new employer offered this benefit.[3]
Robbing Peter to Pay Paul
Increased costs may cause your employees to redirect funds designed to be saved for retirement. Whether it is reducing their current retirement deferrals and/or an increase in loan requests, it may be a way to keep up with the rise of inflation.
Delaying Retirement
Starting this year, all participants will receive a statement that includes a monthly income projection. The income illustration will be based on their retirement savings and lifetime payout assumptions. But what happens when those numbers are much lower than anticipated?